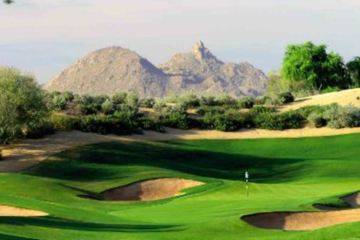 Kierland Golf Club: An enjoyable desert ride in Scottsdale, Arizona
SCOTTSDALE, Ariz. -- We'll get to the greens, fairways and general design at Kierland Golf Club, but first, let's discuss the Segway motorized scooters.
Scooters?
That's right. Kierland, in north Scottsdale, is believed to be the only golf course in the country to offer Segways as transportation over its 27-hole layout. For a small fee, which includes a one-hour training session, golfers can tool through a round in a tricked-out Segway with a wider tire a bag rack for golf clubs.
"It's a great experience," Head Professional Heath Morden said. "We get a lot of folks wanting to try those."
And why not? It sure beats walking -- or a golf cart.
That's the beauty of Kierland. The Troon Golf property goes out of its way to provide golfers with a unique experience. Where else, for example, can visitors sit in the clubhouse and listen to the bagpipes played behind the ninth green as the sun sets?
"We want to be different than anybody else and present things guests haven't seen," Morden said.
Of course, the bells and whistles only matter if the golf course measures up to par. Fortunately, Kierland delivers there, too.
The Scott Miller-designed layout features three separate nine-hole layouts: Acacia, Mesquite and Ironwood.
 
Mesquite and Ironwood are similar in that that neither golf course leaves you breathless. They're in terrific shape -- the greens at Kierland are more receptive than many desert greens in Arizona -- but fairly flat and unremarkable.
"It's a resort course," said Mark Heller of nearby Mesa, Ariz. "You expect it to be in pretty good shape, and it is. A lot of resort courses try to overdo it in terms of the difficulty level. This one didn't."
While golfers might forget Mesquite and Ironwood soon after the round, the Acacia nine makes a lasting impression. Simply put, it's a hoot.
It features three par 3s -- none shorter than 171 yards from the tips -- and three par 5s. Plus, Miller built more mounds on the Acacia nine, so it has a bumper-bowling feel.
"It has more of the terrain changes and a bit more elevation change," Morden said.
The par-5 ninth hole at Acacia is the signature hole at Kierland and, from my experience, one of the more challenging finishes in Arizona. It's only 531 yards from the back tees, but water runs down the left side of the fairway all the way to the green, which is protected by five bunkers. Also, fairway bunkers sit just beyond the water, and mounds on the other side of the fairway steer everything toward the lake.
Achieve par on Acacia's No. 9 and you'll feel like you made birdie.
Is Kierland the best golf course I've played in the Valley? No. But few facilities offer a better all-around experience.
Oh, and did we mention that every scooter comes with its own air-conditioning unit?
Kierland Golf Club: The verdict
As you expect at most resort golf courses, Kierland stays in terrific shape. The variety of the three nines is a plus for golfers who stay at the resort and want to play more than one round of golf. Also, service at the Troon property is terrific, from the pro-shop employees to the starter to the guys who clean your clubs at the end of the round.
And don't forget the Segway scooters and bagpipes. How cool is that?
Stay and play at Westin Kierland
Kierland provides several daily, weekly and weekend packages at the resort, plus Troon cardholders qualify for discounted green fees. Also, the golf course offers instruction for players at all levels. Renowned teaching pros Mike and Sandy LaBauve work on site, and there's also a daily clinic at 10 a.m. to teach beginners the fundamentals of golf.
Featured Courses
Troon North Golf Club stands as the hallmark of the desert golf experience, stretching through the natural ravines...
MORE
Arizona Grand Golf Course, now fully renovated, has a unique blend of traditional links and desert influences....
MORE
Named one of the "Top 10 Public Golf Courses in Arizona" by Golf Digest, the magnificent par-71, 7,216- yard...
MORE