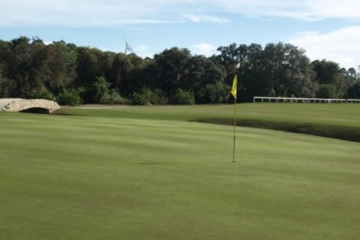 Grand Cypress Resort's New Course in Orlando is a golf tribute to St. Andrews
ORLANDO, Fla. -- It's no secret that Jack Nicklaus has a special affinity for the Old Course at St. Andrews. After all, three of his 18 major victories came there.
So as an architect, it was a natural for him to pay tribute to the birthplace of golf, which is exactly what he did with the New Course at Grand Cypress Resort.
In a lot of ways this is one of the more special golf courses that Nicklaus has ever created in his illustrious design career. It's certainly his most unique. He basically copied some of the holes from the Old Course -- the first and 18th immediately come to mind -- while incorporating design elements into other original holes that simply carry the theme of the old Scottish links course.
For example, on the New Course you'll find double greens, stone bridges and walls, pot bunkers, gorse and just a little bit of water, mostly in the form of burns, just like you see in Scotland. Knowing where those burns are is critical, of course, as are avoiding the pot bunkers, which can be as deep as 12 feet.
Most of all, however, the New Course, like its inspiration, is a very playable golf course. Excellently conditioned, the fairways are just a step below the greens in terms of speed, and there is plenty of fairway to go around.
For example, the first hole, just as it is in St. Andrews, shares its fairway with the 18th. Aim a little left to be safe, and you'll have a reasonable approach into the first green. Of course, go too far left, and you might have to wait for a group coming up the 18th, but at least you'll get to play your next shot.
Make no mistake, however: The New Course is Florida golf with warm-season grasses, warm weather and palm trees in the distance. Despite the first and 18th, the feel is truly unique with some wonderfully designed holes that will test your skill and imagination.
The second hole, for example, is a par 5 with plenty of treacherous bunkers throughout. At just more than 500 yards, it is reachable, but a giant mound and bunker in front of the green spell big risk if you go for it in two and fail. Being in the wrong spot in that bunker not only takes birdie out of play but brings bogey back into the equation.
This is a pattern that repeats throughout the course. You can play safe away from the trouble or risk missing the bunkers, burns and high grass and try to go low. In either case, it's just plain fun, and golfers will love watching the ball roll out on the firm fairways.
The New Course is just part of what is one of Florida's most complete and revered resorts. As a host for many professional and corporate events, Grand Cypress offers another 27 holes of strong Florida golf (the North Course, South Course and East Course), outstanding practice facilities and renowned Grand Cypress Academy of Golf.
In addition, Grand Cypress remains one of America's great golf resorts, with the resort's Hyatt Hotel and the Villas of Grand Cypress.
There are also seven restaurants, an equestrian center, walking trails, swimming, hiking, biking, fishing and jogging.
Featured Courses
The New Course adds another dimension of play to the Orlando golf scene with steeper and more challenging bunkers...
MORE
Designed with a five-tee system for all playing abilities, yet quite challenging, the Waldorf Astoria Golf Club...
MORE
Magnificent Course Named for its majestic magnolia trees, this course features elevated tees, spacious greens...
MORE