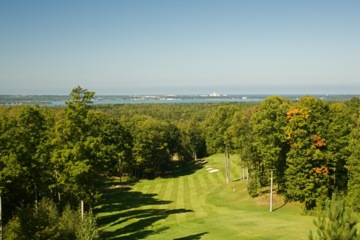 Ten of northern Michigan's great underdog golf courses
Northern Michigan has been a favorite destination for city dwellers in Detroit and Chicago for many years.
But recent, high-profile golf courses have transformed it from a regional destination to more of a national destination. Arcadia Bluffs, Bay Harbor, Forest Dunes and Tullymore are all rated in most magazine's Top 100 lists. Multi-course resorts such as Boyne Highlands, Grand Traverse, Treetops and Shanty Creek draw their own attention, thanks to high-profile architects and big marketing budgets.
Plenty of other daily-fee golf courses in northern Michigan, however, fly under the radar, as you'd expect given the regions wealth of courses. Here are a few you may have never heard of but should consider if you're booking a northern Michigan golf vacation.
Belvedere Golf Club
Long before Bay Harbor Golf Club opened, Belvedere Golf Club was the Petoskey-Charlevoix area's top draw. Opened in 1927, it was designed by Willie Watson (the same man who designed Harding Park in San Francisco). The traditional parkland setting was host to the Michigan Amateur for many years.
Dunmaglas Golf Course
Another lesser-known course near Bay Harbor, Dunmaglas Golf Course is enjoying a second life with new ownership and a softer, gentler design. The landscape it sits on is the same great setting, though, with 800-plus scenic acres.
Hawk's Eye at Hawk's Eye Golf Resort
Minutes from the front entrance of the Shanty Creek Resort in Bellaire, Hawk's Eye Golf Course is not affiliated with the resort but is good enough to be included with any stay there. Playing up and down through dense forest and affording long views from elevated tees, the course is consistently spectacular, with a green fee that never peaks as high as the resorts around it.
Mountain Ridge at Crystal Mountain Resort
Crystal Mountain Resort boasts one of the Midwest's best golf schools for aspiring junior players. Its two golf courses fly under the radar, thanks in part to being located in the close vicinity of so many other top-ranked courses such as Arcadia Bluffs. The resort's newer Mountain Ridge course is understated, secluded, in good shape and a lot of fun to play. The final holes finish with a climax along the resort's mountainside.
Manitou Passage Golf Club
Formerly named King's Challenge and affiliated with the now-closed Sugarloaf Ski Resort, remote Manitou Passage Golf Club welcomes those who find it with a recently renovated Arnold Palmer signature design that has a collection of the north's best holes, such as the par-5 eighth hole, which affords views all the way out to Lake Michigan.
Black Forest course at Black Forest at Wilderness Valley
One of Tom Doak's first course designs, the Black Forest course at Black Forest at Wilderness Valley in Gaylord was intended to serve as one of the area's toughest courses when it was planned. Today it still succeeds with fairways narrowly lined by thick forest, tough greens and loads of bunkers.
Pinecroft Golf Course
Minutes from the exclusive Crystal Downs Golf Club, Pinecroft Golf Course is a small, family run course that is affordable and has some great holes overlooking Torch Lake. It's short and narrow at many points, but traditionalists should find it's a fun play.
Torch Course at A-Ga-Ming Golf Resort
Near the Grand Traverse Resort, two-course A-Ga-Ming Golf Resort features the newer Sundance Course plus the original Torch Course, a traditional woodlands course with narrow fairways and doglegs, plus some beautiful views of Torch Lake beyond some holes.
Hidden River Golf & Casting Club
Located near Boyne Highlands, Hidden River Golf & Casting Club is an affordable, remote golf course that plays around scenic wetlands. The laid-back vibe is welcoming -- and foursomes are invited to stick around for fly fishing tours afterward -- though the layout is championship-caliber and challenging, especially the brawny front nine.
Tribute Course at the Otsego Club
The Otsego Club is a classic northern Michigan golf and ski retreat that recently added a new golf course, the Tribute Course. The course has similar mountainside terrain amid 100 acres, full of spectacular shot values comparable to better-known Treetops Resort a couple miles away.
Featured Courses
There is a purity of both design and experience that resides at only a few modern golf clubs. Here, designer Tom...
MORE
Marsh Ridge is the perfect place to golf in the spectacular all-season beauty of Northern Michigan! Easily reached...
MORE
A chance to get away with friends is our opportunity to escape the everyday. We relish the fairways in the...
MORE