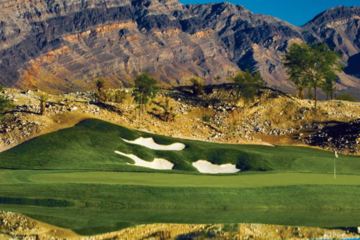 Coyote Springs Golf Club is indeed one of Las Vegas golf's hidden gems
COYOTE SPRINGS, Nev. -- People toss around "hidden gem" praises in the golf course world all the time. But in the case of Coyote Springs Golf Club, the praise is well deserved.
This Jack Nicklaus Signature design, located an hour away from Las Vegas, is one of the best courses players will take on during any trip to Las Vegas.
At 7,471 yards, the par-72 layout is long enough (and challenging enough) to test the best golfers anywhere, but with multiple tee choices it's also playable for everyone. And it is vital to pick the proper set of tees as the bunkers (more than 100) are perfectly placed to catch those errant drives. Add in rolling fairways and lightning-quick, true-rolling greens and you've got a golf experience you won't soon forget.
With water features on 11 holes, players really need to think on the tee. In other words: driver isn't always the right choice.
"You've really got to manage your game around here," Head Professional Karl Larcom said. "There's a lot of turf here so the fairways are very wide. But if you miss the greens in the wrong spots or find a few of the bunkers, you can definitely walk away with a pretty big score."
In other words, play it smart. Take the ninth and 18th holes for example. Both are medium-length par 4s that mirror each other with a shimmering pond dissecting the two holes. The ninth is 410 yards from the tips and doglegs left, and the 18th is 375 yards from the tips and doglegs right. But it's not the length that provides the challenge. It's the danger with those large bunkers coming into play off the tee as well as guarding the greens along with that huge pond that laps up to the edge of both greens. Two solid shots will set players up for a birdie chance but errant shots -- whether off the tee or into the greens -- can spell trouble.
One of the more intriguing holes on the course that really tests players is the par-5 fifth, which stretches to 539 yards. There's no water on the hole, but there is plenty of trouble in two arroyos that slice though the fairways -- one off the tee and near the front of the green. The tee shot can be played right or left depending on how aggressive players want to be. Do you go for it or do you lay up? Both choices require pinpoint accuracy with second shots because even if players lay up, the third shot is into a green guarded by two huge bunkers. It's a definite birdie hole, but also one that can bite players if they don't execute each shot to perfection. And that's a feature shared by many golf holes on this thrilling Nicklaus design.
"It's just a pretty unique golf course," Larcom said. "There are more moguls and undulations on this golf course that will challenge players and the water is very well positioned and fits into the golf course design perfectly."
It's never easy to justify spending an hour driving to a golf course in the middle of nowhere. Coyote Springs Golf Club is definitely worth that effort, however. From the lush fairways to the immaculate greens to the cordial staff, it's everything players want in a golf course.
"The views are fantastic and the conditions are second to none," Larcom said. "We've been getting a lot of repeat customers and that's great news. You'll have a quiet, peaceful day. You're surrounded by mountains and that's it. It's a great golf experience."
Featured Courses
The Revere presents a blend of beauty and challenge unlike any other in southern Nevada. Draped through the rugged...
MORE
When you book your Las Vegas golf package, why should you expect any less from your Las Vegas golf experience?...
MORE
Located in the footsteps of the scenic Red Rock National Park, minutes from the famous Las Vegas Strip, TPC Las...
MORE