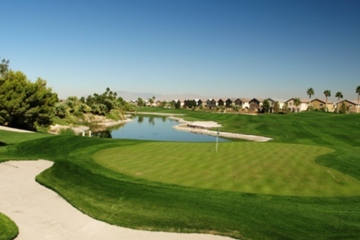 From the golf course to the grill, Las Vegas' Rhodes Ranch is player friendly
LAS VEGAS -- If golf is about having fun, then it's hard to go wrong at Rhodes Ranch Golf Club.
Located in the southwest part of Vegas just a short distance from the Strip, Rhodes Ranch has become a favorite among locals and visitors alike. It's a golf facility that takes care of you from beginning to end, whether it's loading your clubs at the bag drop or greeting you at the end of your round with a 2-for-1 drink coupon at the friendly clubhouse.
There are special promotions, like glow-ball tournaments at night, and it's been a stage for celebrities and athletes to hold charitable events. But the foundation at Rhodes Ranch is a fun, memorable and well conditioned golf course.
Designed by Ted Robinson, this 6,909-yard layout has all the shots. You'll find holes that are risk-reward, others with pretty water features and some that are somewhat difficult. Nothing is overly taxing, however. Good players will find it challenging to get low, while novices, if they play the right set of four available tees, should simply have fun navigating the layout.
The feel of the course is almost tropical with its white-sand bunkers and palm trees that line many of the fairways. There's water on seven of the holes, including three of the four par 3s. Those par 3s are one of the strengths of the golf course. The third, which plays 227 from the back, plays over a large pond and is considered the course's signature hole. The 16th, though, with cascading water on the left and water on three sides of the green, may be just as picturesque and is just as difficult, if not tougher. It plays 212 yards from the tips.
One of the things that makes Rhodes Ranch intriguing, however, are its risk-reward holes. The par-4 eighth is just 326 yards (308 from the next set of tees). But if you pull driver, you have to stay away from the large body of water on the right. The same could be said for the 11th, which plays 321 yards from the tips. The bailout for both holes is to the left.
The course also features a nice variety of par 5s. Among them are the fifth and 15th, which are reachable in two by good players at just 515 yards. The ninth, however, at 571 yards, is generally a three-shot hole but still presents a birdie opportunity for players who hit a good drive and layup.
Rhodes Ranch ends with a very challenging par 4, the 441-yard 18th. With water on the left, right and in front of the 18th green, a good drive is critical to set up a reasonable approach shot. Anything less, and most players will be approaching 18 like a par 5.
Practice facilities at Rhodes Ranch feature a large grass range, putting green and short-game area. Lessons are also available from the facility's PGA Professional staff.
Rhodes Ranch also has a well stocked golf shop as well as an excellent bar and restaurant inside the clubhouse. Players can get a good breakfast before the round. Lunch and dinner selections are also available. The clubhouse features several large flat screens and a wide selection of brews and cocktails for golfers who choose to stay after their rounds and watch some sports.
Featured Courses
When you book your Las Vegas golf package, why should you expect any less from your Las Vegas golf experience?...
MORE
The Revere presents a blend of beauty and challenge unlike any other in southern Nevada. Draped through the rugged...
MORE
The Boulder City Golf Course is a 6,600 yard championship 18-hole, par 72, golf course, with beautiful tree-lined...
MORE