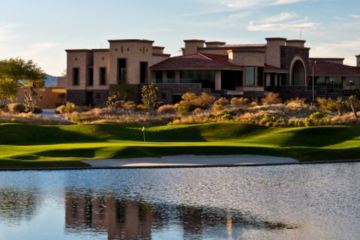 Las Vegas Paiute Golf Resort is 54 holes of Dye-namite golf
LAS VEGAS -- Stand on the first tee of any of the three courses at Las Vegas Paiute Golf Resort and close your eyes.
Here that? It's the sound of silence.
It's just you and three Pete Dye golf courses -- along with occasional visits from the wildlife that calls the area home.
The 54 holes at the golf resort offer diverse Dye golf experiences as well as amazing views and a chance to be one with nature.
"The best thing about the resort is the design of the courses," said Chad Gunier, general manager at the resort. "You never play the same hole twice. And each of the courses has its own personality. Each course has its own adventure."
All of the three courses at the resort -- the Snow Mountain Course, Sun Mountain Course and Wolf Course -- offer stunning golf challenges from start to finish.
Many believe Paiute's Wolf Course provides the best adventure of the three layouts -- and with good reason. At 7,604 yards from the tips, it's one of the longest courses anywhere as well as being a severe golf test. One warning: Unless your game matches PGA Tour pros such as Tiger Woods or Phil Mickelson, make sure to move up a set of tees -- or two.
The highlight of the Wolf Course is the 182-yard, par-3 15th hole. Players will stand on the tee box and see all water surrounding the island green. Throw in a little breeze and you have a knee-knocking tee shot that will test even the best players in your group.
Paiute's Snow Mountain (the original layout) and Sun Mountain Courses, which both play a little more than 7,100 yards, add their own adventures.
Both start off with par 4s that are definite birdie opportunities before turning up the heat with lengthier par 4s. There are also reachable par 5s and testy par 3s. Throw in perfectly placed Dye bunkers (complete with thousands of those famous railroad ties bordering many of them) and you have courses that are as beautiful as they are challenging. Ponds come into play on seven holes on the Snow Mountain Course, but on just three holes on the Sun Mountain Course.
Las Vegas Paiute Golf Resort's 50,000-square-foot clubhouse features a huge pro shop with a wide variety of clothing, club and accessory options. Then there's the restaurant/bar that's spacious enough to hold the biggest of events (weddings, corporate outings, retirement parties) or cozy enough for that intimate dinner for two. Add in a cigar bar, as well as plush locker rooms, and you have a country club atmosphere.
Gunier said he hopes golfers who haven't played at the Las Vegas Paiute Golf Resort will check it out.
"The Las Vegas Paiute Golf Resort is a perfect golf getaway," Gunier said. "With 54 holes, there's plenty of challenge and variety. Pete Dye really mixed it up well here and gives players everything they want in a golf experience."
Featured Courses
The Revere presents a blend of beauty and challenge unlike any other in southern Nevada. Draped through the rugged...
MORE
When you book your Las Vegas golf package, why should you expect any less from your Las Vegas golf experience?...
MORE
Immaculate playing conditions and beautiful desert landscaping make Painted Desert Golf Club the first of its kind...
MORE