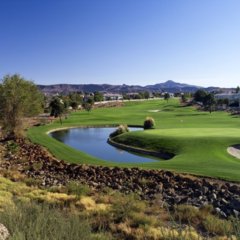 Got game? Take on some of the most challenging golf courses in Las Vegas
LAS VEGAS -- The big hitters' mantra is simple: Give them length and challenge. Well, this is your chance to take on a few of Vegas' best.
Here are five Las Vegas golf courses on which you've not only got to go big, you've got to be accurate. Do you have what it takes? Let's find out. You're up.
Bali Hai Golf Club
A Schmidt-Curley design, Bali Hai Golf Club stretches to only 7,002 yards, not long in the land of bombers but still daunting with its share of challenges. The early part of the golf course sets the stage for a dramatic finish that impresses even the best players. The 17th hole (484 yards) and 18th hole (486 yards) are PGA Tour-length and as stunning to see and photograph as they are devilish to play. The 18th features brilliant, white-sand bunkers and a deep-blue pond guarding the green. It's a finishing hole to test a player's courage. Do you take dead aim at the pin or hit for the middle of the green? That's the question. Do you have the answer?
The Legacy Golf Club
The Legacy Golf Club, an Arthur Hills design noted for its one-of-a-kind Vegas feel, includes a signature tee box on the 10th hole. The spade-diamond-club-heart tee shapes are definitely unique. With perfectly placed bunkers and just enough water hazards to whet your appetite, it's long enough, at 7,233 yards, and tough enough to challenge the best players. With more than its share of doglegs, both left and right, cutting corners is key, but don't cut too much or those pesky bunkers come will torment you early and often.
Las Vegas Paiute Golf Resort's Wolf Course
Everyone talks about the 15th-hole island green on the Wolf Course at Las Vegas Paiute Golf Resort, a daunting test that measures 182 yards from the tips. But at 7,604 yards this Pete Dye masterpiece ranks as tough as they come. With five par 4s at more than 495 yards, it's not enough to hit big drives. You'll also face long-distance second shots into greens that are big and undulating. This is one of those golf courses that can take a toll on even the best players.
Revere Golf Club's Lexington Course
The Lexington Course at Revere Golf Club measures 7,142 yards, but it's the bunkers -- almost 100 of them -- that provide the real difficulty. With elevation changes galore, second shots are at a premium on this Billy Casper and Greg Nash layout. It's a must to pick the right club into these often-elevated greens. And if you're still on the bigger-is-better kick, the Lexington Course also has a 625-yard par 5, aptly named Longfellow. With just one bunker, it looks like an easy birdie hole. But watch out. Desert outcroppings cut dangerously into the fairway at important spots, making key a spot in the short grass off the tee and on the second shot.
Silverstone Golf Club - Desert-Mountain
The Desert-Mountain combination at Silverstone Golf Club easily earns a spot on the list. After all, where else are you going to find a par 5 on each nine that reaches more than 625 yards? It's 627 yards on the Desert nine and a jaw-dropping 653 on the Mountain. In all, 7,159 yards of beautiful waste area, brilliant bunkering and lush fairway offer a challenge that must be played to be believed. It's time for the old-fashioned grip-it-and-rip-it motto to come to life. You'll love this Robert Cupp design for its length and beauty but fear its dramatic bunkering and water features.
Featured Courses
When you book your Las Vegas golf package, why should you expect any less from your Las Vegas golf experience?...
MORE
The Revere presents a blend of beauty and challenge unlike any other in southern Nevada. Draped through the rugged...
MORE
Highland Falls is one of the sportiest layouts in the Valley. The par-72, 6,512-yard course lies at an elevation...
MORE