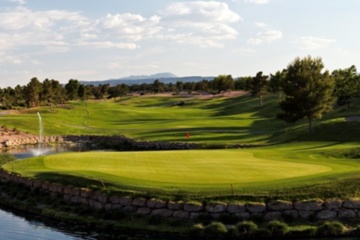 Highland Falls Golf Club in Las Vegas: Great golf at a great price
LAS VEGAS -- Tucked in the northwest corner of Las Vegas is Golf Summerlin, three courses designed by world-class architects Billy Casper and Greg Nash.
The centerpiece of the trio is Highland Falls Golf Club, which may not show up on many best-course lists but does show up on many golfers' must-play lists because it's a great golf experience at a great price.
Highland Falls G.C. should be played when you tee it up in Las Vegas. With dramatic elevation changes, stunning views of the Las Vegas Strip (standing on the 14th tee, players can see from one end of the Strip to the other) and a warm, friendly atmosphere, it's a golf course that makes players feel important.
And you probably won't find a better price.
"We always have great conditions with great value," said Joe Kelly, director of golf at Golf Summerlin. "It's just a great golf experience. It's a fun place to play that's challenging, but it's also a course that won't beat you up."
Highland Falls plays just 6,512 yards from the tips. But what it lacks in length it more than makes up for in challenges and elevation changes. Wide, inviting fairways give way to routinely well bunkered greens, making the second shots to most holes key.
A few of the holes definitely stand out, especially on the back nine. One of the best in Las Vegas just may be the 206-yard, par-3 14th.
Standing on the tee, the entire length of the Las Vegas Strip unfolds right before your eyes. Play this one at dusk and the Strip lights up, but you better hurry to finish the last few holes before dark. The large green below is an enticing target but it's huge, so make sure you're on the proper level or three-putt is a possibility.
The two closing holes here are as dramatic as they are beautiful. The par-3 17th plays just 168 yards from the tips, but water on the right and bunkering on the left make pinpoint accuracy a must. The green is large, so just hitting it with the tee shot doesn't necessarily mean you'll walk away with a par.
That sets the stage for the 18th hole, a 387-yard par 4. Again, water must be avoided on the right both with the tee shot and the approach shot. It's a definite birdie hole with two solid shots and a great way to end the round.
"It's just a fun place to play," Kelly said. "What makes it so great is players will have a wide variety of shots with the rolling hills here. You'll have uphill shots, sidehill shots, downhill shots. It's a great test, but it's also a very fair test of golf."
After you've experienced the charm and playability of Highland Falls Golf Club, chances are you'll want to stick around and play the other two courses at Golf Summerlin, Palm Valley (another championship course) and Eagle Crest (an executive course). The three courses offer great and varied golf experiences that will definitely bring you back for more.
Featured Courses
The Revere presents a blend of beauty and challenge unlike any other in southern Nevada. Draped through the rugged...
MORE
When you book your Las Vegas golf package, why should you expect any less from your Las Vegas golf experience?...
MORE
Chill out and enjoy this award-winning championship layout. Snow Mountain is Paiute's original course and storms...
MORE