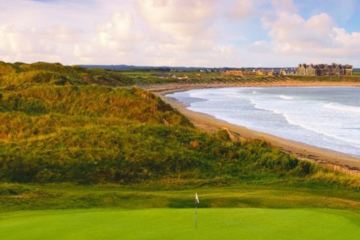 Naturally Ireland: Links golf thrives at hilly Doonbeg Golf Club in County Clare
COUNTY CLARE, Ireland -- Anyone who relishes the unique thrill of links golf will feel their pulse quicken as they approach Doonbeg Golf Club and see the great dunes looming up on the horizon.
Imposing and impressive, these 100-foot mini mountains can be spotted from a considerable distance by visitors to one of the loveliest golf resorts in the whole of Ireland.
As you make your way up the long drive past the delightful cottages on your left and the spectacular golf course on your right, what will perhaps amaze you most as you enter a cozy courtyard in front of a handsome lodge is that, far from being around for centuries, the place is remarkably new; it's not mid-18th but early-21st century.
Tucked into the southwest coast of Ireland, an hour's drive from Shannon Airport, the only thing that sometimes falls a little short of perfect at Doonbeg is the weather, and so there's a welcoming peat fire in the reception area. The Lodge at Doonbeg has the feel of an old country house and is fabulously furnished and immensely comfortable throughout. As well as stunning suites, there's a gorgeous "Long Room" dining area that overlooks the 18th green and the crashing Atlantic rollers beyond.
Across the courtyard and up a sweeping staircase there's Darby's, a brilliant bar that boasts the best "craic" and serves super food. It's right alongside the first tee and, be warned, watching hackers hitting off is a popular pastime with the regulars.
Doonbeg features one of the most memorable opening holes you'll ever encounter. No. 1, a par 5, draws you into the course with a wide armchair of a distant dune behind the green welcoming you with outstretched arms.
From there, you thread your way gently between the dunes on an outward half that takes you to the far end of a crescent-shaped beach. Look back across the bay from the ninth green beside the beach, and there's the lodge standing proudly on a distant promontory.
The inward half is punctuated with surprises, some more pleasant than others. If you engage the services of one of the many experienced caddies, you'll be forewarned of the danger lurking near the center of the 12th green.
Purists may disapprove of a bunker in a green, but in my humble opinion, quirky is good, and I'm all in favor of punishing accomplished players capable of hitting the middle of a green from a good distance back.
The 14th, a short par 3 with a green perched perilously on a ledge, dramatically demonstrates that length isn't an essential ingredient of a great golf hole. The fabulous 15th is alleged to be Greg Norman's favorite hole, and it's not hard to see why. Slice off the final tee, and your ball will finish among the flotsam on the beach; keep it straight, and you'll have the pleasure of putting out in front of whoever's looking out of the lodge.
Sipping a pint afterwards, you'll reflect on a round that's been a thrilling challenge but not a bruising battle. The fairways are generous, and the course accommodates a wee bit of waywardness, which is as well, as the wind blows as surely as the Shannon flows.
After an invigorating 18, I bumped into golf journalist and author Ivan Morris, the first non-American to win the coveted "Golf Nut of the Year" award. A member of several clubs, including nearby Lahinch Golf Club and Ballybunion Golf Club, Morris is a huge fan of Doonbeg.
"The last thing Greg Norman wanted when he built this course was an Americanized links," he said. "He succeeded in building an Irish course in Ireland by keeping it as natural as possible."
[EDITOR'S NOTE: It was announced Feb. 11, 2014 that the Trump Organization purchased the Lodge at Doonbeg and Doonbeg Golf Club. The course's new name will be Trump International Golf Links Ireland. Click here for more.]
Featured Courses
The Palmer Ryder Cup Course is, quite simply, one of Europe's most spectacular courses. It charms, it entices and...
MORE
Balcarrick Golf Club sprawls across gently rising slopes and mounds that rise to 30 feet above sea level. While it...
MORE
Designed and built by Arnold Palmer, this stunning setting represents a true paradise for those willing to...
MORE